Photography Equipment
The saying goes that "your equipment doesn't matter nearly as much as knowing what to do with it." Yet being invested in the best cameras and lighting equipment does give you an edge.
CAMERAS, LENSES & LIGHTING
My primary camera for wedding photography is Nikon's flagship camera – the Nikon D5. Huge advancements in sensor design, autofocus, metering and image processing result in thrilling new capabilities—low light shooting all the way to ISO 102,400, precise AF detection and tracking across that entire ISO range, regardless of your subject's speed or direction changes, blazing fast 12 fps continuous shooting, and, of course, image quality that captures the hearts and minds.
I always carry two camera bodies with two different lenses mounted and alternate between them to capture different perspectives. My second camera is the Nikon D850 - a camera that allows photographers to capture fast action in 45.7 megapixels of brilliant resolution. With remarkable advancements across the board—sensor design, autofocus, dynamic range, sensitivity, Speedlight control, battery life, shutter and mirror drive mechanisms, Silent Photography in Live-View mode, focus shift capability and more—this is quite possibly the most impressive, well-rounded DSLR yet.
We have invested in the Nikon Z6 Mirrorless in our quest to provide the latest in technology and to quote Nikon, "adaptability - its about remaining fluid, open." Thriving in whatever situation comes along the Z 6 is perhaps the most adaptable camera Nikon has ever created. It's at the sweet spot of speed, resolution and low-light performance. All combined with the advantages of a lightweight mirrorless design, a revolutionary new full-frame lens mount with matched lenses and seamless integration with Nikon's DSLR system. 24.5 Megapixels | FX format | 12 FPS continuous shooting | 100 - 51,200 ISO | 4K UHD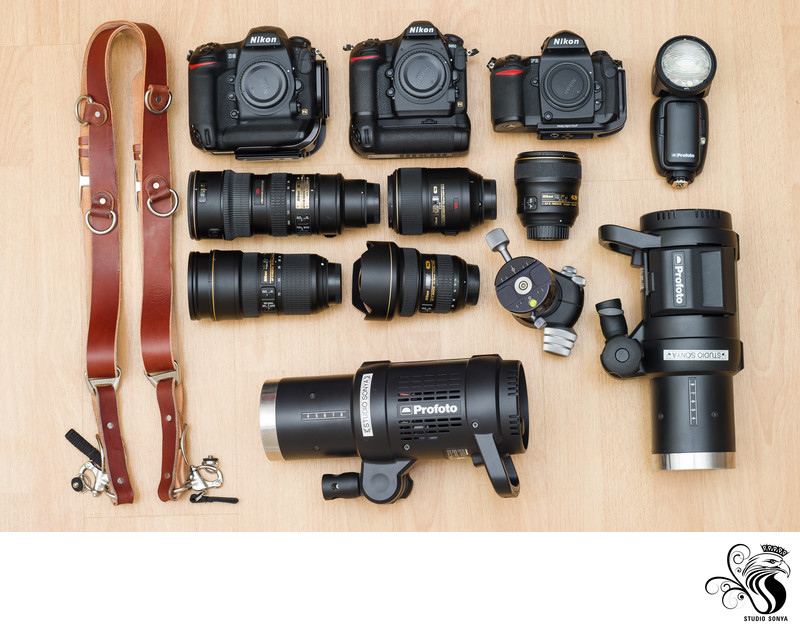 Nikon D5 Digital SLR Camera
Nikon D850 Digital SLR Camera
Nikon Z6 Mirrorless Camera
Nikon F6 Film SLR Camera
Nikon 14-24mm f/2.8G ED AF-S lens
Nikon 24-70mm f/2.8E ED VR AF-S lens
Nikon 35mm f/1.4G AF-S lens
Nikon 70-200mm f/2.8G ED VRII AF-S lens
Nikon 85mm f/1.4G AF-S lens
Nikon 105mm f/2.8G Micro VR AF-S IF-ED lens
Profoto A1 AirTTL Studio Light (2)
Profoto B1 500 AirTTL Battery-Powered Flashes (2)
FlashpointeVOLV 200 TTL Modular Strobe (4)
FlashpointZoom Li-on R2 TTL On-Camera Flash Speedlight
Stella Pro 5000 LED light
Westcott Ice Light
Copyright © 2022. North Carolina Photographers - Gurbir & Sonya - Greensboro Wedding Photographers - (336) 580-7189 - gurbir@studiosonya.com - Privacy Policy - Terms of Use